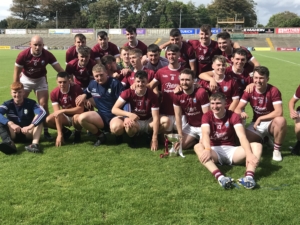 Wexford GAA has circulated a useful reminder of how it is hoped to run championships and leagues this year so we have set out all the key info below.  Key dates to note are the weekend of 12-13 June, when it is hoped to commence the All-County Leagues, and the weekend of 7-8 August when it's hoped to start the championships. As there was no relegation in 2020, it's expected that TWO teams will be relegated from each championship grade this year!
Wexford GAA Fixtures Calendar 2021
Championship to commence weekend of 8th August subject to County Teams' progression
Senior Format – 13 Teams: Three Groups of 3, one group of four
Group A         Group B         Group C         Group D
Team 1                 Team 1            Team 1            Team 1
Team 2                 Team 2            Team 2            Team 2
Team 3                 Team 3            Team 3            Team 3
Team 4
Top team in each group into the quarter-final and seeded against winners of Preliminary QFs
Preliminary QF:
2nd place Group A v 3rd Group B
3rd Place Group A v 2nd Place Group B
2nd Place Group C v 3rd Place Group D
3rd Place Group C v 2nd Place Group D
Losers of Preliminary QFs and Team 4 from Group A will play in Relegation series as follows:
Relegation Quarter Final (First two Teams Drawn)
Relegation Semi Final: Loser of above match v Team 3 drawn
Relegation Semi Final: Team 4 drawn v Team 5 Drawn
Relegation Semi Final Losers are relegated to return senior groups to 12 teams for 2022.
All County Leagues
All County Leagues to commence the weekend of 12/13th June 2021. Games to be fixed at set times for each division where possible.
Cancellation Policy :
Where a fixture is cancelled, with the agreement of both Clubs, then latitude is provided to change to day before or after original fixture subject to a minimum of 48 hours advance notification by email to the Secretary, CCC fixtures. This notification must be forwarded by the Club Secretary of each club, confirming agreement to the changed fixture.
The onus is on the Club seeking the change to get prior agreement of Referee in question before notification to Secretary CCC Fixtures and to seek nomination of alternative Referee if necessary. Seamus Whelan, Referee Administrator must also be notified in advance of any such change of fixture and/or Referee.
U20  Competitions
Under 20 Competitions to be confirmed
Note Motions 4 and 5  (amendment to the Bye-Law regarding Gradings)
Motion 4.
The status of a player will be determined in the first or subsequent rounds by playing the Championship grade in either the league or knockout stages of a championship.
In case where a club fields 3 or more teams at championship level in a code, a player may only participate and play at one grade below the level in which he participated the previous year in that code.
e.g  A player who plays Senior hurling championship in 2020 and his club field teams at Senior, Intermediate 'A' Junior & Junior B in 2021 the player is only eligible to play the Senior or Intermediate 'A' teams in 2021 and is ineligible to play for the Junior and Junior B teams in 2021.
(the rest of rule to remain unchanged)
Motion 5.
Exception:
An 18 year old player (first year out of U17 grade) will have free grading in the adult championship until the quarter finals.
This exception permits the player to play only one championship game per week-end only.
Coming on as a substitute constitutes as a game, so if the player comes on for any short time in a game, that is his only game time for that 7-day period.  However, he may partake in one grade of championship in each code in a seven-day period (Friday morning to the following Thursday night.) If the player plays up a grade on weekend, they will be permitted to return to a lower grade the following weekend.
A player availing of this rule who plays for a club's first team may not play, at any stage, with a club's fourth team for the remainder of the championship year pursuant to Riail 6.20. T. 2019
Team sheets will be checked, and any breach of rule will result in disciplinary action.
Penalty
On proven objection: Award of Game to Opposing team.
On an Inquiry by the Committee-in-Charge: Forfeiture of Games without Award of Game to Opposing Team, or Fine, depending on the circumstances.
The Second team which the 18 year-old fields on is the one to be penalized in the case of the exception.