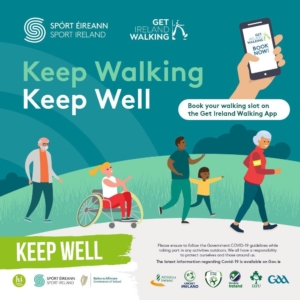 *Let's spring into summer with Keep Walking, Keep Well*
We are delighted to be taking part in Get Ireland Walking, *Keep Walking, Keep Well* this year.
Keep Walking Keep Well is a national initiative that aims to maximise the number of people participating in walking – for health, wellbeing and fitness – throughout Ireland.
We will be running the initiative for six weeks from today, Monday the 17th of May to the 27th of June.
Download the Get Ireland Walking App (see below) and book in your walking time at St. Martins GAA Club, Wexford. It is great for motivation and to track your progress.
We would encourage everyone to avail of our walking track in the club and this initiative over the next six weeks, even if you do one walk a week for six weeks imagine the progress you will make. Our walking track is a great assist to the community and a safe alternative to walking on the roads.
Walking is a great way to improve both your physical and mental health so let's enjoy our walking track, invite your friends and neighbours to take part and build up as much distance as we can in the club over the next six weeks.
Get out, get active and enjoy the good weather.
Download App here:
Google Play: https://play.google.com/store/apps/details?id=com.mountaineeringireland.getirelandwalking&gl=IE
iOS: https://apps.apple.com/ie/app/get-ireland-walking/id1542223155